Sample Certificate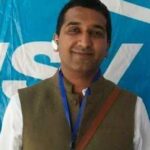 What you'll learn
Positive pressure therapy is a form of Non-Invasive Ventilation (NIV). NIV is a newer concept which is based on the same principle of invasive ventilation, although it differs in the interface. NIV can be delivered using a conventional mechanical ventilator. read more »»
Key concepts covered include:
Basics and practical guidance to Non-Invasive Ventilation in various procedures. This course also covers the clinical applications of NIV.
Instructor
Dr Rakesh Periwal, MD, IDCCM is the Director at Critical Care Unit of Apollo Hospitals and also works as the Consultant Internist and Intensivist. He comes with 14 years of experience and his area of special interest is mechanical ventilation, sleep apnea and metabolic disorders. He started the first sleep lab in North-Eastern part of India in the year 2008. He is actively involved in the training of nurses and wishes to broaden the idea of nurse practitioners. He works on patient education using electronic media, especially on chronic and non-communicable diseases. He is a published author with both medical and non-medical writings.