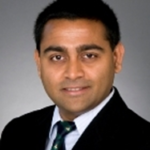 What you'll learn
Noninvasive ventilation (NIV) refers to the administration of ventilatory support without using an invasive artificial airway (endotracheal tube or tracheostomy tube). NIV for acute respiratory failure is used particularly for severe exacerbations of chronic obstructive pulmonary disease (COPD) but also for acute decompensated heart failure and other acute conditions and it can be used long term. read more »»
Key concepts covered include:
This course will give you the Fundamentals of Non-Invasive Ventilation which explains common terminologies used in NIV, commonly used methods, contraindications, and Recommendations for using NIV for the treatment of acute respiratory failure based on the official ERS / ATS clinical practice guidelines.
Instructor
Dr. Subbiah received his Medical Degree from Madras Medical College, Chennai, India, where he also completed postgraduate training in Internal Medicine. Dr. Subbiah completed a second Residency in Internal Medicine at Lincoln Medical Center, at the Weill Medical College of Cornell University, New York, NY. He will complete a Fellowship in Pulmonary and Critical Care Medicine at Albany Medical Center, Albany, NY before joining Crystal Run Healthcare in 2010.