Sample Certificate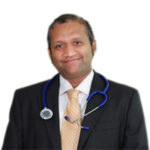 What you'll learn
Diabetes is one of the leading causes of chronic renal failure. It is increasing day by day in the present world due to changes in lifestyle habits, obesity, amputations, and genetic abnormalities. Uncontrolled diabetes is leading to various complications, one of which is diabetic foot. Diabetic foot ulcers have a significant impact on a patient's overall health and health care system. They can also affect the quality of life by affecting mobility, work, and social activities disruption. read more »»
Key concepts covered include:
By the end of the course, you will be able to understand
History of diabetic foot amputation
Evidence-based studies for amputation
Non-invasive vascular evaluation
Types of amputation
Instructor
Dr. Rajesh Kesavan is a Certified Wound Specialist Physician Member, Podiatrist, and a Specialist in Diabetic Foot Management, He is also a wound care specialist with specialty training in the USA and Europe. He has experience of 10 years in podiatric surgery and is a specialist in managing foot deformities especially Charcot neuroarthropathy of the foot and ankle. He is also the Secretary of the Diabetic Foot Society of India.
Other Top Rated Courses by Dr. Rajesh Kesavan