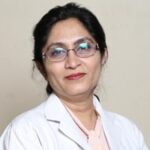 What you'll learn
HELLP syndrome is a severe complication of pregnancy, and about 70% of cases develop before pregnancy majority being between 27th and 37th gestational weeks. read more »»
Key concepts covered include:
"By the end of this course, you'll be able to understand:
Various diagnostic aids for HELLP syndrome
Biochemical evidence
Treatment of HELLP syndrome
HELLP alerts and a lot more"
Instructor
Dr. Girija Wagh is a highly qualified obstetrician, gynaecologist, and certified fertility and IVF specialist based in Pune, Maharashtra, India. Her expertise comprises of high-risk obstetrics and her extensive practice focuses on all gynaecological procedures including, but not limited to, fertilisation, impregnation and childbirth complications, advanced evidence-based pre/post-natal care, and support through the gestation period. The practice also constitutes of high-risk pregnancy procedures that include preventive care in gestational diabetes, hypertensive disorders in pregnancy, pre-term birth, and recurrent pregnancy loss.
Other Top Rated Courses by Dr. Girija Wagh