Sample Certificate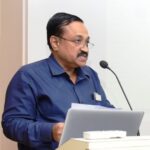 What you'll learn
Gastro-duodenal perforations are common causes of an acute abdomen. Peptic ulcers are the common causes of perforation. read more »»
Key concepts covered include:
"An overview of:
Common causes of perforation and peritonitis
Scoring systems for perforation peritonitis
How to make a clinical diagnosis?
Role of investigations
Management
Complications"
Instructor
Dr. Rajgopal Shenoy Kallya joined the department of Surgery, Kasturba Medical College, Manipal as a junior lecturer in 1986 and is working as a professor since 2001. He has been adjudged as the best teacher at KMC for 5 years. He is the author of many textbooks related to surgery and medicine. He is also the president of the Udupi District Chess Association and was selected unanimously as Vice President of the United Karnataka Chess Association in September 2011.
Other Top Rated Courses by Dr. K. Rajgopal Shenoy