Sample Certificate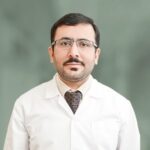 What you'll learn
The increasing prevalence of morbid obesity, diabetes, and cardiovascular disease, coupled with growing awareness and preference towards minimally invasive surgery, are the key factors driving the growing demand for Laparoscopic Bariatric, Metabolic Surgery procedures across the globe. This course is intended for general surgeons interested in the field of bariatric surgery.  Here is an immense opportunity for every General Surgeon even in to elevate their skills and learn the nuances of Laparoscopic Bariatric and Metabolic Surgery. read more »»
Key concepts covered include:
Brief Introduction of Bariatric Surgery
Metabolic basis of bariatric operations
Conventional indications
Emerging indications
Risk stratification
Instructor
He is a Master surgeon of Metabolic & bariatric surgery accredited by surgical Review corporation(SRC MSMBS). he has experience of laparoscopic surgery more than 12 years especially in the field of Laparoscopic bariatric surgery and has good experience in all types of minimal invasive surgeries like Scarless thyroidectomy, laparoscopic hernia repair, laparoscopic splenectomy, laparoscopic adrenalectomy, laparoscopic colectomies, laparoscopic heller myotomy, laparoscopic hiatal hernia repair, laparoscopic funoplication, and laparoscopic gynecological procedures. He has experience of all types of bariatric surgeries like gastric banding, sleeve gastrectomy, RNY gastric bypass, Deudenal switch,Billiopancreatic diversion, gastric plication and did more than 2000 cases of bariatric surgery. His main interest is one anastomosis gastric bypass. He has good experience in redo bariatric surgeries. He is an innovator of a novel procedure for low BMI diabetic patients, laparoscopic gastric plication with ileal bypass. He has a membership in the American college of surgeons(ACS), American Society for Metabolic & bariatric surgery(ASMBS), International bariatric Club(IBC). He is a master trainer of Laparoscopic Bariatric Surgery and has demonstrated master classes in Pakistan. He has demonstrated live laparoscopic bariatric surgeries in different bariatric surgery conferences.