Sample Certificate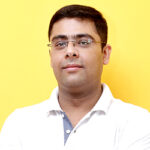 What you'll learn
Fibro-myalgia is a common chronic and disabling condition associated with a wide array of symptoms, including pain, poor sleep, fatigue, depression, and stiffness. read more »»
Key concepts covered include:
"By the end of the course, you will be able to understand:
Exercise prescription in fibro-myalgia, back pain, and arthritis.
Why is physical activity important?
Types of back pain and fibromyalgia
Benefits of physical activity
Exercise testing and a lot more"
Instructor
Dr. Sumiran Passey has completed his MD in Sports Medicine from Faculty of Sports Medicine & Physiotherapy, Guru Nanak Dev University, Amritsar (Punjab). Prior to this, he completed his MBBS degree from Kasturba Medical College, Manipal University, Mangalore. He specializes in sports medicine and sports sciences. He also holds a FIFA Diploma in Football Medicine. He is currently a Media Commission Member for the Indian Association of Sports Medicine. He is a certified team physician by the Asian Federation of Sports Medicine and Asian Football Confederation.
Other Top Rated Courses by Dr. Sumiran Passey