Sample Certificate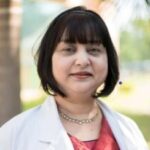 What you'll learn
Acute kidney injury is characterized by a rapid decrease in kidney function that is associated with changes in carbohydrate, fat, and protein metabolism. AKI rarely occurs as an isolated organ failure. read more »»
Key concepts covered include:
An overview of:
Acute kidney injury and its effects on the body
Role of nutrition support in AKI patients
Associated complications of nutrition support
Instructor
Anita Saxena is currently working as an Additional Professor in the Department of Nephrology in Sanjay Gandhi Post Graduate Institute of Medical Sciences, Lucknow. Her qualifications include an MD and Ph.D. She completed her Post-Doctoral fellowships during 1995-96, Addenbrooke's Hospital, Cambridge University, England. read more »»
She is a member of the American Society of Nephrology (ASN), International Society of Nephrology (ISN), International Society of Renal Nutrition and Metabolism (ISRNM), Asia Pacific Society of Nephrology (APSN), Indian Society of Nephrology (ISN), Peritoneal dialysis Society of India, Indian Society of Organ Transplantation (ISOT), Indian Association of Nephrology (IAN), Member Research Board of Advisors American Biographical Institute, USA, Advisory Council, International Biographical Centre, Cambridge, England, and Philosophical Society, Cambridge, England. She has more than 60 published papers.
Other Top Rated Courses by Dr. Anitha Saxena