Sample Certificate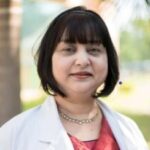 What you'll learn
Diabetic nephropathy is one of the chronic complications of diabetes mellitus. Food intake that is a burden to the kidney must be avoided. However, the quality of life must also be maintained. read more »»
Key concepts covered include:
"An overview of:
Role of diet in preventing the progression of diabetic nephropathy.
Guidelines around drafting an ideal diet plan for diabetic nephropathy patients"
Instructor
Anita Saxena is currently working as an Additional Professor in the Department of Nephrology in Sanjay Gandhi Post Graduate Institute of Medical Sciences, Lucknow. Her qualifications include an MD and Ph.D. She completed her Post-Doctoral fellowships during 1995-96, Addenbrooke's Hospital, Cambridge University, England. read more »»
She is a member of the American Society of Nephrology (ASN), International Society of Nephrology (ISN), International Society of Renal Nutrition and Metabolism (ISRNM), Asia Pacific Society of Nephrology (APSN), Indian Society of Nephrology (ISN), Peritoneal dialysis Society of India, Indian Society of Organ Transplantation (ISOT), Indian Association of Nephrology (IAN), Member Research Board of Advisors American Biographical Institute, USA, Advisory Council, International Biographical Centre, Cambridge, England, and Philosophical Society, Cambridge, England. She has more than 60 published papers.
Other Top Rated Courses by Dr. Anitha Saxena