Enrolled

59 students enrolled
Key concepts covered include:
An overview of
To better visualize and understand the spleen and vascular structures, with our 3D anatomy model
To identify the clinical symptoms of splenic disease
How to differentiate normal and abnormal sonographic appearances of the spleen
How to obtain images of the vascular flow of the splenic artery and vein
How to explain and demonstrate the use of breathing techniques to obtain optimal images of the spleen
What you'll learn
Diagnostic ultrasound is a rapidly evolving imaging technology that is utilized in both industrialized and developing countries. Since its introduction, its application was widespread in anatomical imaging, blood flow measurement, and evaluation of physiology in almost all aspects of medicine. The ultrasound imaging technique has replaced or complemented a large number of radiographic and nuclear medicine procedures and has opened new diagnostic investigation areas. read more »»
* Course Subscription is valid for 1 month

*Please note certificate will be available for download post 24 hours of successful course completion with a minimum of  80% score in the quiz.
* Course Subscription is valid for 1 month
Instructor
Certificate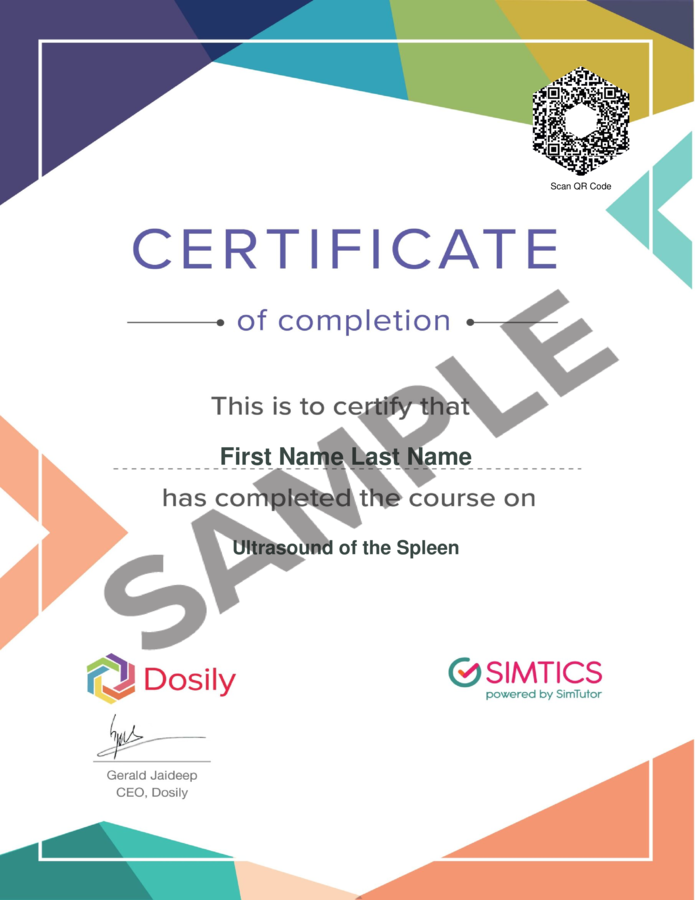 Last Updated 04/2021
Other Top Rated Courses by SIMTICS