Enrolled

59 students enrolled
Key concepts covered include:
An overview of
The protocols for sonographic scanning
To practice, perfect, and test your skills in performing an ultrasound scan of the pediatric abdomen
Anatomy and physiology of the pediatric abdomen
How to identify on images the common pediatric pathologies
What you'll learn
Ultrasound has become one of the essential diagnostic aids in the field of medicine due to increased abnormalities and defects in the organs. It uses high-frequency sound waves to capture live images from the body on to the monitor. Ultrasound is a valuable imaging modality in the evaluating of the pediatric abdomen. Recent improvements in the ultrasound technician can be utilized to improve the detection of bowel pathology in children.
read more »»
Who should attend?
General practitioners
Primary care physicians
Undergraduate medical students (Interns)
Postgraduate students in medicine
Nurses
life science graduates
Radiology technicians
* Course Subscription is valid for 1 month

*Please note certificate will be available for download post 24 hours of successful course completion with a minimum of  80% score in the quiz.
* Course Subscription is valid for 1 month
Instructor
Certificate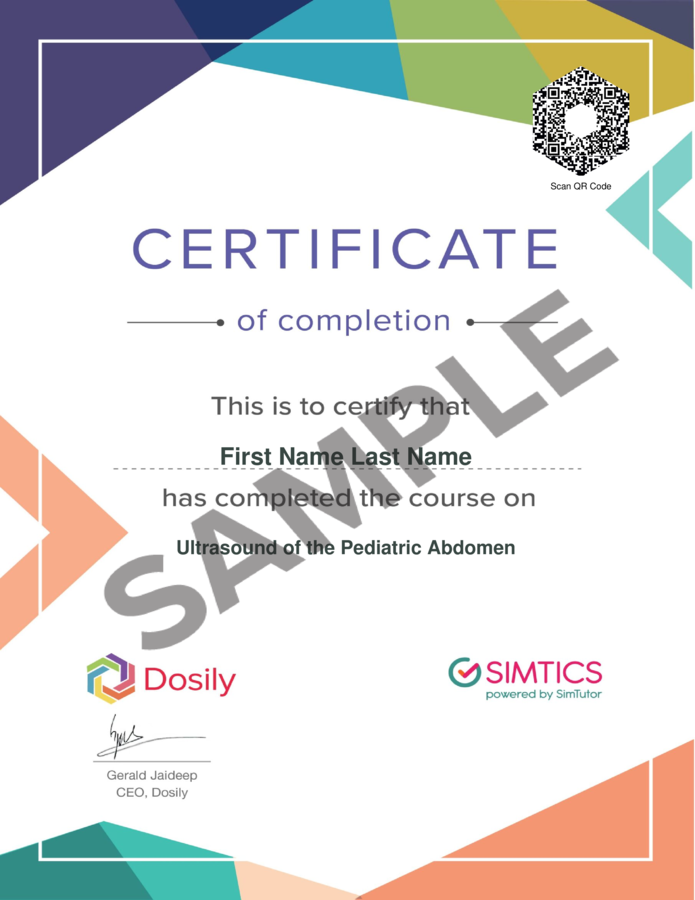 Last Updated 04/2021
Other Top Rated Courses by SIMTICS