Enrolled

60 students enrolled
Key concepts covered include:
An overview of
The normal values for pediatric vital signs
To visualize the relevant anatomy used to assess pediatric vital signs
How to prepare for taking a child's vital signs
To practice and perfect your skills in obtaining and recording accurate temperatures and appropriate pulse rates, volume, and rhythm
What you'll learn
Vital signs are the most important markers for measuring the basic body functions. They can be measured anywhere, like in a medical setting, at home, or the site of a medical emergency, etc. Vital signs are always obtained during a routine physical examination. They are also used for assessing symptoms or as part of a follow-up assessment for patients undergoing treatment in children.
read more »»
* Course Subscription is valid for 1 month

*Please note certificate will be available for download post 24 hours of successful course completion with a minimum of 80% score in the quiz.
* Course Subscription is valid for 1 month
Instructor
Certificate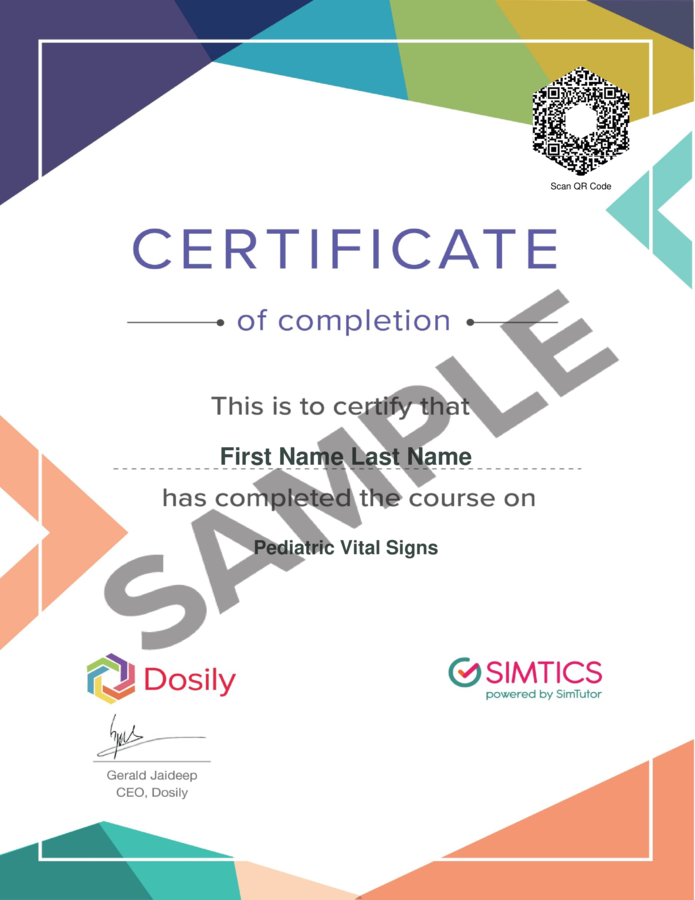 Last Updated 04/2021
Other Top Rated Courses by SIMTICS