Enrolled

59 students enrolled
Key concepts covered include:
An overview of
Pre-procedure and post-procedure considerations
To visualize the key anatomical structures surrounding the eye, and the components of the eye in cross-section
Safe and correct eye irrigation
How to prepare for and instill medication safely into a patient's eye
How to apply drug administration safety guidelines
What you'll learn
Chemical contamination may lead to temporary or permanent damage to the eyes. Eye injuries are the most common injuries in children as well as in adults. Most common etiology for eye injuries include road traffic accidents, ball injuries. Eye drop instillation is the dispensation of sterile ophthalmic medication into the patient's eye whereas eye irrigation is used to flush and clean any dust particles or chemicals from conjunctiva and cornea. This is also used as a pre-operative procedure before any eye surgeries or to manage any infections. read more »»
* Course Subscription is valid for 1 month

*Please note certificate will be available for download post 24 hours of successful course completion with a minimum of  80% score in the quiz.
* Course Subscription is valid for 1 month
Instructor
Certificate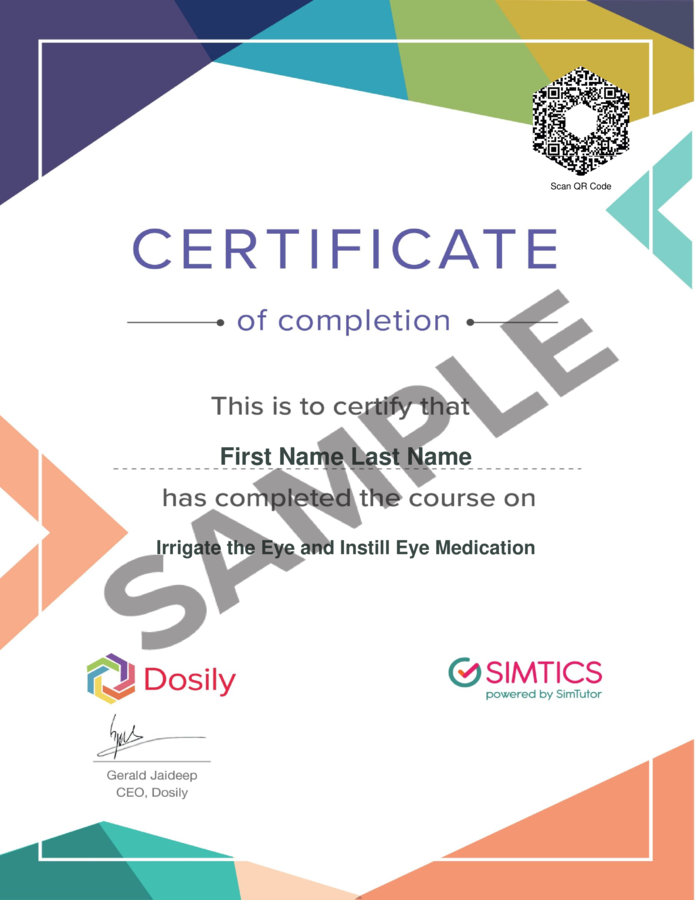 Last Updated 04/2021
Other Top Rated Courses by SIMTICS