Enrolled

60 students enrolled
Key concepts covered include:
An overview of
Appropriate needle and syringe selection for intramuscular injections
Important safety considerations
To visualize the key anatomical structures comprising the main muscles of the upper and lower body, using our anatomy illustrations and 3D model
To understand the deltoid, vastus lateralis, and dorsogluteal injection sites, and when to use each method for reducing patient discomfort
How to prepare the substance to be injected
To practice and perfect your skills in administering an intramuscular injection using the deltoid, vastus lateralis, or dorsogluteal sites
What you'll learn
Intramuscular injections are commonly practiced drug administration techniques in the medical field. Most of the injectable drugs are delivered intramuscularly. Intramuscular injections are administered directly into the muscles, which allows the medication to be absorbed into the bloodstream quickly. Intramuscular injections are also used for administering large amounts of medication or where oral intake is not possible.
read more »»
* Course Subscription is valid for 1 month

*Please note certificate will be available for download post 24 hours of successful course completion with a minimum of  80% score in the quiz.
* Course Subscription is valid for 1 month
Instructor
Certificate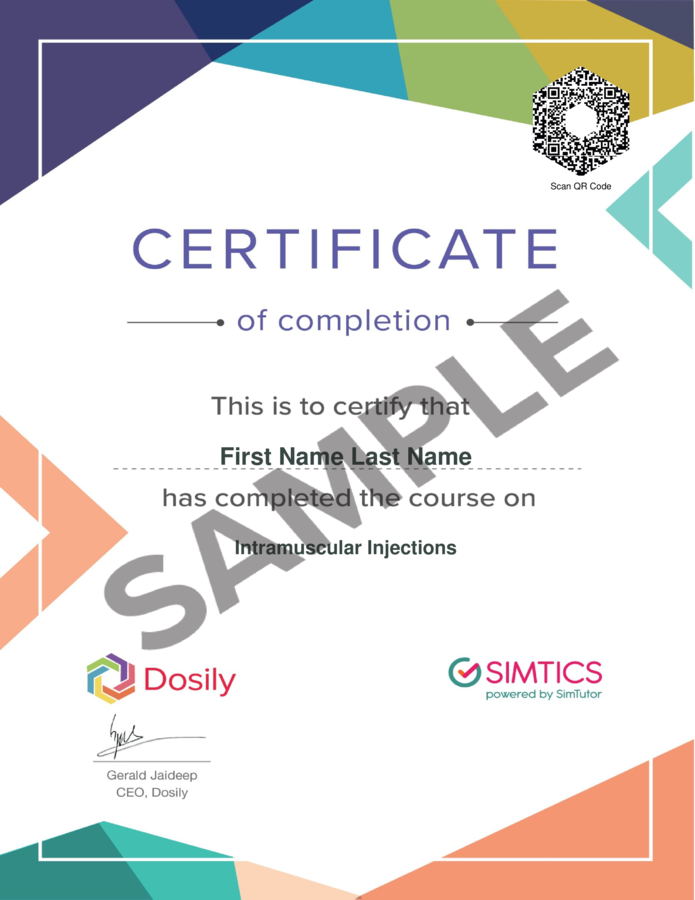 Last Updated 03/2021
Other Top Rated Courses by SIMTICS