Enrolled

102 students enrolled
Key concepts covered include:
An overview on
Pre-procedure considerations for BLS for an infant.
Correct preliminary actions for BLS for an infant.
The Correct procedure for assessing vital signs for BLS for an infant.
The Correct procedure for performing CPR for BLS for an infant.
The Differences in procedure and technique for 1-rescuer and 2-rescuer situations. 6. Procedure for performing defibrillation for basic life support for an infant.
Describe and demonstrate the correct procedure for post-BLS evaluation of an infant.
What you'll learn
For the best survival and quality of life, pediatric basic life support should be a part of the curriculum for every health care professional. Pediatric Basic life support (PBLS) is a basic level of medical care used to help sustain an infant who is experiencing cardiac arrest or respiratory failure until they can be given full medical care by an advanced responder. PBLS can be used in any scenario where breathing or heartbeat has been compromised, such as drowning, heart attack, or severe shock (eg, severe loss of blood). read more »»
* Course Subscription is valid for 1 month

*Please note certificate will be available for download post 24 hours of successful course completion with a minimum of  80% score in the quiz.
* Course Subscription is valid for 1 month
Instructor
Certificate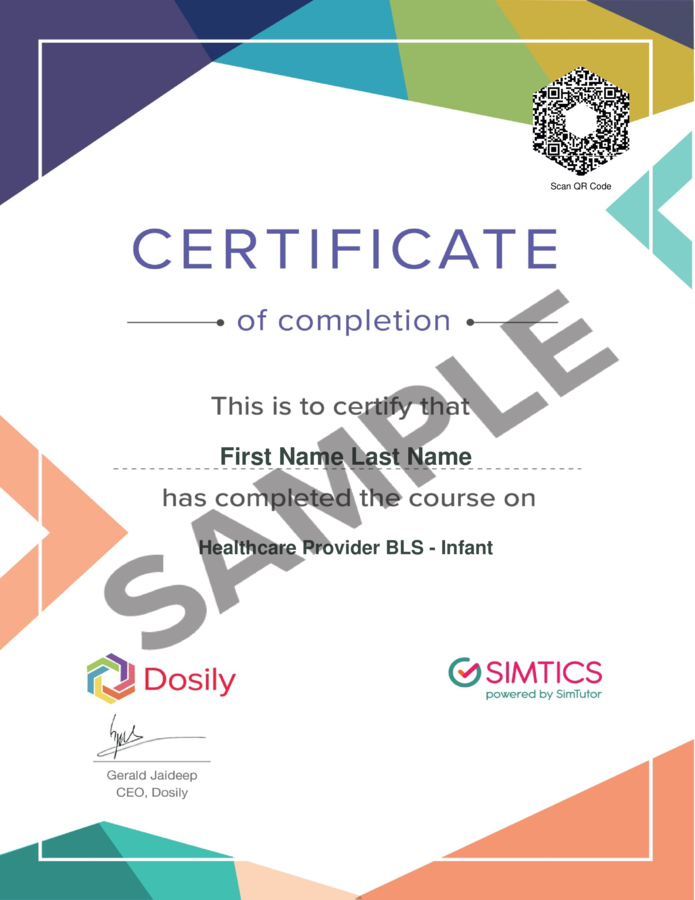 Last Updated 03/2021
Other Top Rated Courses by SIMTICS