Enrolled

59 students enrolled
Key concepts covered include:
An overview of how
To practice, perfect, and test your skills in setting up and performing an echocardiography assessment of the endocardium and pericardium
To better visualize and understand the anatomy and physiology of the heart and major vessels, with our 3D model and illustrations
Signs and symptoms of endocarditis and pericarditis
To differentiate on images abnormal sonographic appearances of the heart, including subacute bacterial endocarditis, common cardiac tumors, and thrombus
To obtain measurements of various structures within the heart
What you'll learn
Endocarditis is the inflammation of the inner wall lining of the heart and pericarditis refers to the inflammation of the outer lining of the heart. Every year, about 1 – 6% of people have pericarditis or endocaridits in the world. An appropriate diagnosis and prompt treatment will help the patient to recover faster. Diagnosing these conditions can be done by ECG which plays a very important role in early diagnosis and treatment. read more »»
* Course Subscription is valid for 1 month

*Please note certificate will be available for download post 24 hours of successful course completion with a minimum of  80% score in the quiz.
* Course Subscription is valid for 1 month
Instructor
Certificate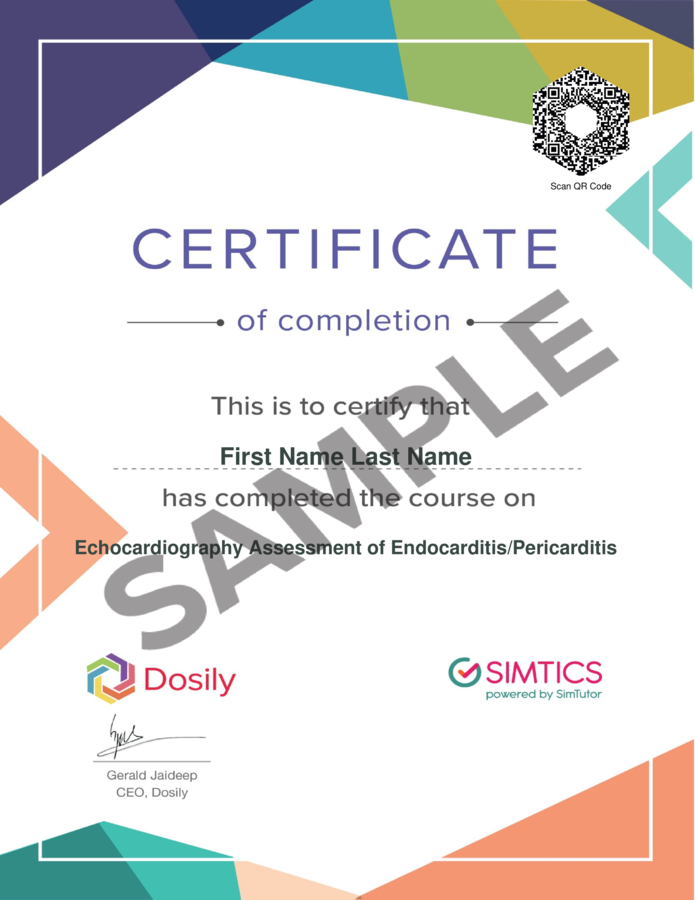 Last Updated 03/2021
Other Top Rated Courses by SIMTICS