Enrolled

58 students enrolled
Key concepts covered include:
An overview of how
To visualize the anatomy of the anal and perianal region, with our anatomical illustrations and 3D model
How to palpate the prostate in men and how to palpate the rectovaginal septum in women
To practice and perfect your skills in how to prepare for and assist with a digital rectal examination
What you'll learn
The digital rectal examination is a medical examination in which the lower rectum, pelvis, and lower abdomen are examined, to detect cancer or other serious health issues. Its a quick and reliable way to examine the health of men's prostrate glands. It is performed in conjunction with pelvic examination. Before the advent of serum prostate-specific antigen (PSA) testing in 1986, the digital rectal examination was the sole method of screening men for prostate cancer.
It also consists of visual inspection of the perianal skin, digital palpation of the rectum, and assessment of the neuromuscular function of the perineum. The examination of the rectum will point the physician in the proper diagnostic direction. The knowledgeable and thorough physician will make the rectal examination a necessary part of complete patient evaluation.
It can be an economical and reliable method to have a complete picture of the rectal and abdominal areas of men. Therefore, knowledge of this digital rectal examination is important for all medical professionals to easily diagnose rectal related issues, rectal cancers, prostrate cancers, etc.
This course teaches you how to prepare for and assist with a digital rectal examination. Including both Learn and Test modes, the online simulator offers a clinical scenario that tests your ability to perform this type of routine examination.
Who should attend?
General practitioners
Primary care physicians
Undergraduate medical students (Interns)
Postgraduate students in medicine
Nurses
life science graduates
* Course Subscription is valid for 1 month

*Please note certificate will be available for download post 24 hours of successful course completion with a minimum of  80% score in the quiz.
* Course Subscription is valid for 1 month
Instructor
Certificate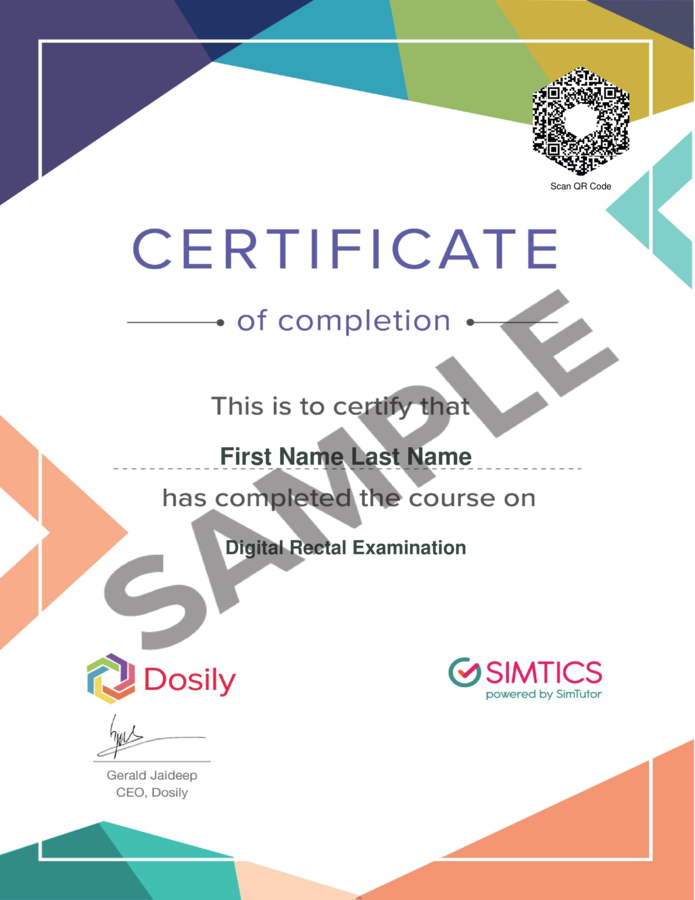 Last Updated 03/2021
Other Top Rated Courses by SIMTICS