Enrolled

60 students enrolled
Key concepts covered include:
An overview of
Pre-procedure considerations related to central venous catheterization
To visualize the anatomy of the rib cage, the underlying great vessels of the heart, and the jugular vein in relation to surrounding structures
How to prepare for central venous catheterization of the jugular vein
To practice and perfect your skills in inserting a central line into the jugular vein
How to perform the modified Seldinger technique
How to secure the cannula
What you'll learn
Central venous catheterization is a common procedure carried out in a hospital setting and is used for a variety of reasons including intravenous administration of specific drugs, parenteral nutrition, hemodialysis, and to aid in the diagnosis of cardiac failure. The placement of central venous catheterization or CVC is an invasive and skill required technique which is generally performed by clinicians, techniques, nurses, nurse anesthetist, nephrologists, interventional cardiologists, Health care professionals, etc. It is used in certain clinical situations like obtaining vascular access, central venous pressure monitoring, and during any intensive therapy.read more »»
* Course Subscription is valid for 1 month

*Please note certificate will be available for download post 24 hours of successful course completion with a minimum of  80% score in the quiz.
* Course Subscription is valid for 1 month
Instructor
Certificate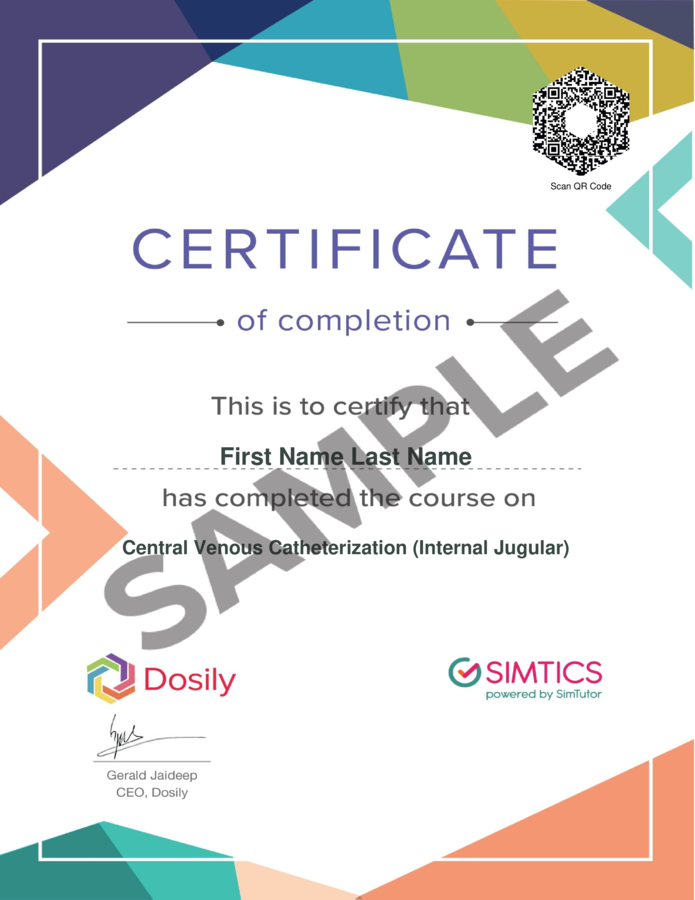 Last Updated 03/2021
Other Top Rated Courses by SIMTICS